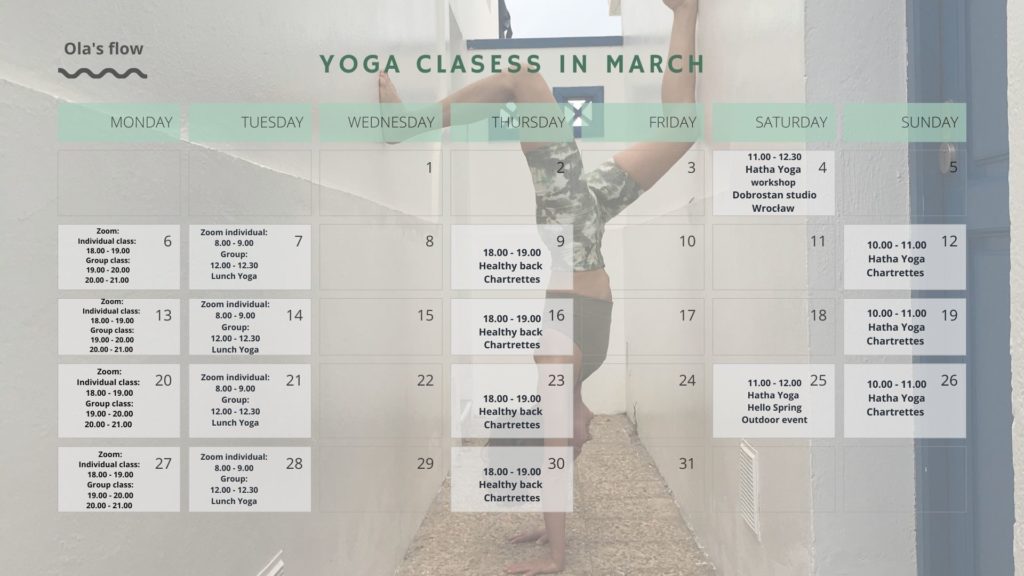 See full yoga classes schedule and choose the one that suits you.
Check the yoga classes schedule and choose the one that suits you. If you have any doubts, feel free to ask, I will be happy to guide you in the right direction. Mail me:
You can also catch me on social media:
Facebook: Olasflow
Instagram: @olas_flow
I lead various types of courses, from Hatha Yoga, through Vinyasa to Ashtanga Yoga. The class schedule is constantly expanding. You can choose a practice for beginners or advanced students in a group or individually, in person or online. More about yoga and classes HERE. Also, ask me about YOGA IN THE OFFICE AND YOGA RETREATS.
Yoga classes – class types
At this moment you can find:
Hatha Yoga Course – Hatha Yoga is a classical style of yoga that combines movement with breath. It consists of a set of asanas – positions, which we perform while working with the body and breath. The flow between them ensures the effect of mastering one's own body and mind. The classes are available on the schedule as:
General group online – practice from scratch,
Advanced group – practice for those who already know the basics and want to develop further,
Straight back – Hatha Yoga classes using asanas that promote improved posture and spinal flexibility.
Benefits of the practice:
Improved coordination and physical fitness,
Better well-being and balance of body and mind,
Improved flexibility and concentration,
Feeling of lightness in the head and body.
ASK FOR INDIVIDUAL CLASSES, CORPORATE CLASSES AND YOGA RETREATS.
You are very welcome to join me!
See you on the mat.